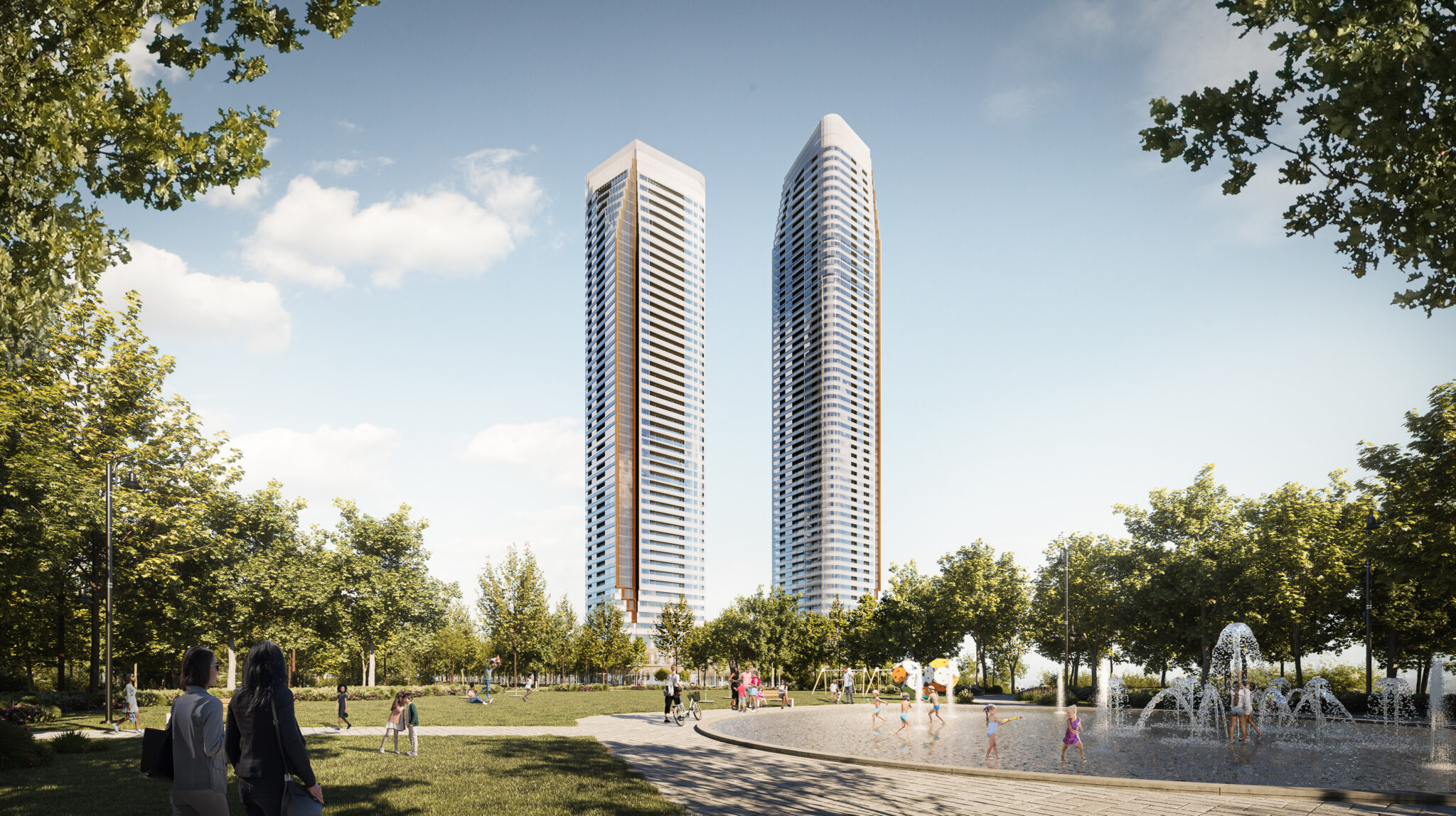 Now Selling
Live at the centre of it all
Welcome to Park Place, a new mixed-use condominium community where two elegant, luxury-inspired towers of 48 and 56 storeys rise above a premier 9-acre Central Park that is coming soon. Located in the dynamic SmartVMC, the new city center in downtown Vaughan, this connected modern classic is only steps away from the Vaughan Metropolitan Centre subway.
Register Now
The ultimate in quiet luxury
From its sculpted, curvy exterior to its exquisitely crafted interiors, Park Place offers elevated modern design and quiet luxury. Superior quality materials and craftsmanship married with artistic flare creates the ultimate living experience. Architectural firm Hariri Pontarini has designed the two towers and their podium base to be eye-catchingly different from the norm for condos, sculpting each tower by using distinctive terra cotta 'fins" that create a stepped silhouette. Around the generous windows, fritted glass gradients create white stripe patterns, which are repeated in the tower podium façade in horizontal gradiated louvres.
Reserve Your Unit Now
The heart of Park Place
Designed by world-renowned landscape architect Claude Cormier, SmartVMC's pedestrian-focused, 9-acre Central Park is at the heart of the community. With mews and curved paths connecting beautiful open landscapes, this premier green space celebrates nature and how we interact with it. Park Place overlooks the park, which features a grand sunken lawn that can be used for community sports, markets, and concerts, as well as an open area with an oversized pergola and water feature.
Reserve Your Unit Now
A complete community, master-planned
SmartVMC is master-planned as a pedestrian- focused, dynamic urban community comprising more than 100 acres and 20 million square feet. Bringing a world-class destination to the Vaughan Metropolitan Centre (VMC), SmartVMC will eventually be home to 45,000 residents. Vaughan's newest metropolitan hub offers unparalleled employment opportunities, curated retail and services residents can easily walk to, acres of premier green space, programmed creative and cultural activities, and prime connectivity via the VMC subway station and transit hub.
Reserve Your Unit Now
A rejuvenating lifestyle
Park Place makes it easy to immerse yourself in a life of well-being, with more than 40,000 square feet of indoor and outdoor building amenities. Find relaxation and fun along the VMC's hundreds of pedestrian-friendly trails through green space and parks, or indoors in the natural-light infused fitness centre, fully-equipped party room, indoor lounge spaces and convenient lobbies.
Reserve Your Unit Now
Spacious, luxury living
Ranging from 477 to 995 square feet, South Tower units are available in one and two bedroom varieties. Each unit features smooth finished nine-foot ceilings, bright floor-to-ceiling windows, modern kitchen finishes like single slab porcelain backsplash, a gorgeous island for extra counter space in select suites, black or brushed gold fixtures in the bathroom and spacious, family-friendly balconies perfect for entertaining.
View All Floor Plans
Well deserved luxury